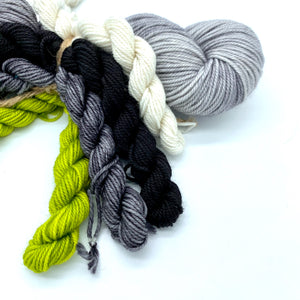 Joy Mitt Kit: Agender Pride
We currently have 1 in stock.
Regular price $35.00 Sale
These mitt kits are close to my heart. I'm queer AF, my family is queer AF, most of my friend group falls on the rainbow somewhere. My life partner, my love, coincidentally is named Joy. These are just all around the perfect mitts, and I'm so excited to have them as part of my store offerings. 
From Ravelry: 
"Fingerless mitts featuring a simple stranded colourwork pattern and a cute flag detail on the cuffs — we've shown three colour options, but there are lots of other pride flags you could easily sub in to customise them for your gift recipient. Design-wise these were a challenge. I really wanted to make something that explicitly featured the flags, and not just something that might be read as a cute rainbow. The thing is… everything I swatched was more cheesy and garish than cute. I eventually ended up here, with a small detail that combines a provisional cast on, intarsia, a folded hem, and double knitting within a few rounds. You'll want to pay attention but the results are totally worth the effort. The colourwork echoes the striping of your chosen flag and increases are worked in a single column to shape the thumb. The mitts are completed with a ribbed cuff that's long enough to fold up over cold fingers.


This kit includes:
191 Yards Temporum in Gray

4 minis, 29.5 yards each in Green, White, Silver, and Black
 This is a Yarn Only kit, you'll also need to purchase the Joy Mitt Pattern Here. 
Temporum:
Temporum is our fingering weight yarn that is 80% Superwash Merino, 10% Cashmere, and 10% Nylon. It is smooth, silky, and warm. This yarn is perfect for socks, but luxurious enough for any next to skin project. Fingering weight. 
If you do not see a pride kit that you identify with, please contact me via the chat, email, Facebook, or Instagram, and I'll dye one up for you. <3