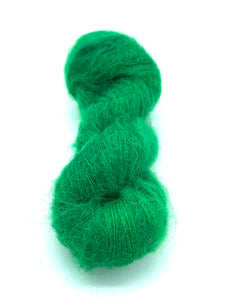 Snoqualmie: Emerald ~ Kid Mohair & Silk
We currently have 1 in stock.
Regular price $30.00 Sale
You lean over the edge of the railing, straining to get a look at the bottom. The great mists rise up from the churning water, having just fallen almost 270 feet into the river below. Snoqualmie is named for our breathtaking falls and the misty halo that surrounds them.
This semisolid emerald green is designed to compliment our standard Emerald City colorway.
Snoqualmie is a lace weight kid mohair and silk blend with great drape and an amazing halo. Knit on it's own, it's a lightweight, ethereal yarn. Hold it together with Ville or Temporum for added texture, drape, and warmth. 

Content
70% Kid Mohair 30% Silk

Yardage
477 yards/436 meters, 1.75 oz/50g
Weight
Lace