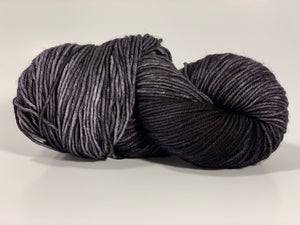 Ville: 4pm ~ Superwash Merino Wool
We currently have 9 in stock.
Regular price $25.00 Sale
The Pacific Northwest is great. Being from California, everyone always asks me if I like it up here. I do, but I miss the light. Whenever I mention the name of this yarn to a local, or they read the tag, there's an audible chuckle. No on likes it when it's dark by 4pm. 
Ville is a worsted weight 100% Superwash Merino Wool yarn inspired by the sights and sounds of Seattle. It is a sultry, well spun 4 ply perfect for sweaters, gloves, whatever you have in mind. It has wonderful stitch definition.
Content
100% Superwash Merino
Yardage
220 yards/201 meters, 4 oz/115g
Weight
Worsted/Aran
Gauge
**********4-5 sts per inch / 11-12cm on US 8/5.0mm***********