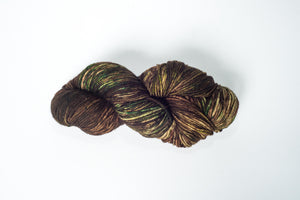 Ville: Spawning Ground ~ Superwash Merino Wool
We currently have 4 in stock.
Regular price $25.00 Sale
Every October the salmon come home. Find the right stream, and you can watch them all day long, in their march upstream. They flash from between the logs, green with algae on moss. They nestle into the sandy beds to lay their roe.
Ville is a worsted weight 100% Superwash Merino Wool yarn inspired by the sights and sounds of Seattle. It is a sultry, well spun 4 ply perfect for sweaters, gloves, whatever you have in mind. It has wonderful stitch definition.
Content
100% Superwash Merino
Yardage
220 yards/201 meters, 4 oz/115g
Weight
Worsted/Aran
Gauge
**********4-5 sts per inch / 11-12cm on US 8/5.0mm***********